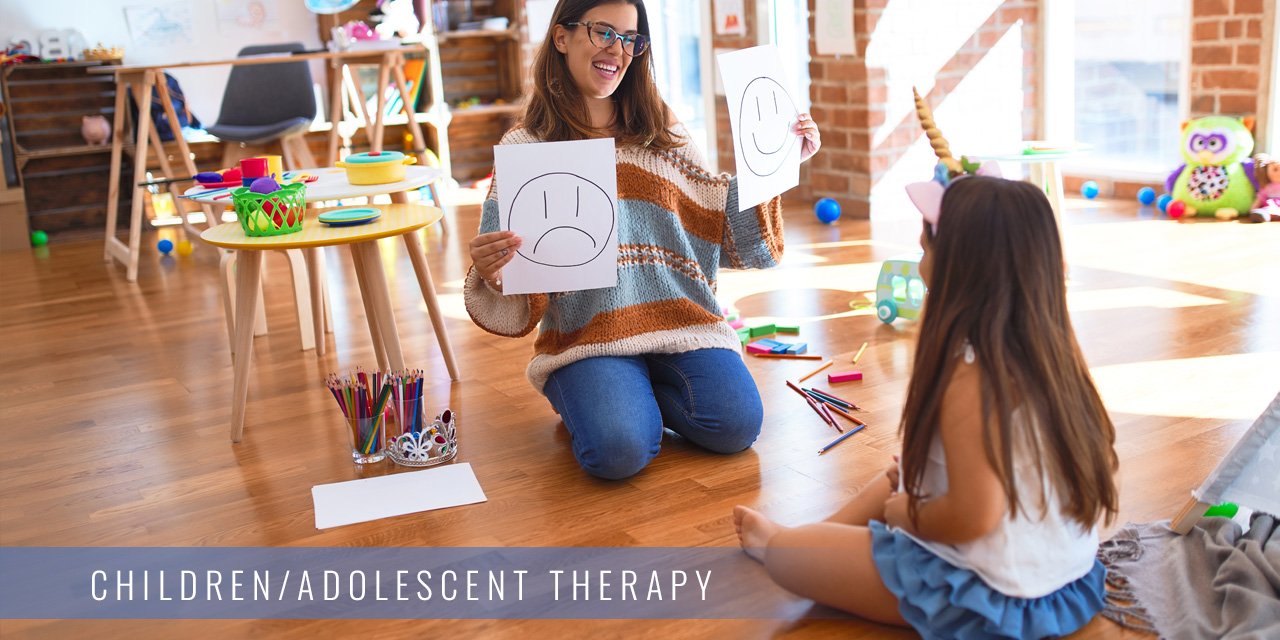 "Every child you encounter is a divine appointment." 
― Wess Stafford
The goal of counseling is to understand the underlying causes of the struggle and to break down the concern or problem into manageable parts that are addressed from a developmentally appropriate context in order to help children and adolescents better understand, heal, and cope. Our clinicians strive to foster a safe environment where children, adolescents, and teens feel secure and able to express their feelings or concerns using approaches such as developmentally appropriate play therapy, trauma focused interventions, and cognitive behavioral techniques. With therapy, children, adolescents, and teens will be better able to interpret issues or concerns they have experienced (or are experiencing) and resolve these issues, as well as process through trauma in order to resume a healthy and fulfilling life.
Child/adolescent therapy focuses on helping kids in developmentally appropriate ways to heal and develop skills to overcome a variety of challenges in their lives. Changes in thoughts, behaviors, and emotions are prevalent during childhood, adolescent, and teenage years and sometimes obstacles emerge that disrupt the developmental path. Social or emotional distress can stem from a variety of things such as: bullying, parental discord, relocation, various types of addiction (or parental/guardian addiction), abuse, witnessing a trauma, grief, biological or neurological challenges, or any issue that affects a child's life. Behavioral and emotional problems are just symptoms of the underlying struggle. Proper diagnosis and developmentally appropriate interventions can help the children, caregivers, teachers and others understand the root of the struggles and develop a supportive environment for children to heal and thrive.
Addiction and Youth
When the cause of the struggles are not properly understood, it can set the children up for a cycle of misunderstanding, conflict, and disconnection with the adults in their lives. This can produce a negative feedback loop where children may develop painful beliefs that they are not good enough or acceptable to others, causing significant emotional distress. When children are not taught how to process or allowed to feel these negative emotions, they find other strategies to ignore or escape them. This is fertile ground for addictions to take root.
Increased  dependency on technology to enable distance learning, or entertain children while parents work from home due to the Pandemic has increased the number of children and families struggling with technology-induced struggles. Isolation from support groups and decreased options to engage in previously-enjoyed activities has resulted in an increased reliance on technology for everything from learning, working, connecting with family, and managing sadness, boredom, fear and losses from daily life. If parents or caretakers are inaccessible or unsafe, children are more likely to cope by attaching to technology (or engaging other behaviors) as a way to numb out or escape the pain of abandonment, boredom, or loss. Emerging research reports children and adolescents between the ages of 8 and 18 spend an average of 44 hours weekly on screens. Compulsive technology and gaming use is a growing concern that may hinder a child or adolescent's development and contribute to social or emotional distress. If your family is having addiction or technology induced struggles, let one of our specialized clinicians support you in regaining balance and connection once again.