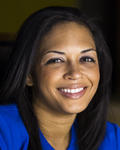 Gabriella Locke, LPC, CRC, PhD Candidate
Life can be challenging in many ways and the effects of trauma can cause significant disruption to one's ability to function and thrive. As a trauma-informed clinician, I operate using a perspective that understands the significant role that life traumas play in one's thoughts, behaviors, actions, and coping mechanisms. Using this trauma-informed perspective, I work to ensure emotional and psychological safety in the therapeutic setting. I strive to collaborate with clients to achieve the healing, inner transformation, and personal growth necessary to move forward for a healthy and fulfilling life. I offer individual therapy to those who are interested in overcoming trauma, addiction, or other challenges in life.
I especially enjoy working with children and adolescents. I work to support clients in this age group by utilizing a child-centered approach that ensures developmentally appropriate approaches and promotes a safe environment to heal from trauma, express and talk about their feelings, and learn and utilize appropriate coping mechanisms.
My specialties include: Children and Adolescents, Addiction, Sexual Addiction/Compulsivity, Post-Traumatic Stress Disorder (PTSD), Trauma, and Domestic Violence. My counselling approach is holistic and I utilize a variety of therapeutic modalities with advanced training in EMDR, TF-CBT, play therapy, and sex addiction.
Specialized Trainings: CRC (Certified Rehabilitation Counselor), EMDR, Sexual Addiction Therapist (CSAT Training in Progress), Play Therapy(Sand Tray, etc), Trauma Focused CBT, REBT(Rational Emotive Behavior Therapy)
Insurances Accepted: Highmark, UPMC, Out of Network Benefits, and Private Pay
Contact Information:
(724) 970-3713
gabriella.locke@untetheredtherapy.org