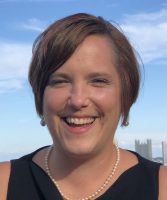 Brandi Gurcak, LPC
Do you struggle with scars from childhood? Are you recovering from an abusive relationship (physically or emotionally)? Do you struggle establishing healthy boundaries with others? Have you experienced a traumatic event or loss in your life? Are you a teenager trying to figure out your identity and how you fit in this world? Do you struggle with addictions or compulsive behaviors that threaten your life, livelihood, or the relationships that mean the most to you? If so, you've come to the right place.
As a therapist with 11 years of experience, I believe therapy provides a safe space through which client and therapist work collaboratively to explore and integrate meaning from one's life experiences. Through increased awareness of one's own narrative, clients gain greater freedom to make choices around how they live in the world. This insight allows individuals a greater sense of well-being, a more defined sense of purpose, and increased internal resources for responding to life's challenges.
My experience and training has prepared me to work with clients who have experienced trauma and abuse, as well as, difficult life transitions. I am prepared to help clients address issues including addiction, adjustment, anxiety, grief and loss, interpersonal conflict, identity confusion, and mood instability. My approach to therapy is collaborative, direct, and compassionate. Therapeutic interventions can be adjusted based on individual need and therapy goals.
Ideal clients: Although I will work with younger children, I have a passion for working with troubled teens and adults.
Specialized Training:
Trauma Therapy, Domestic Violence, Addictions, and EMDR.
Insurances Accepted:
Highmark, UPMC, Private Pay
Contact Information:
(412) 301-7067
brandi.gurcak@untetheredtherapy.org