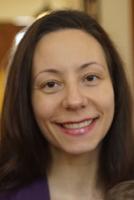 Amanda Chamberlain, MSCP, LPC
Many individuals have had early experiences and traumas that change their perceptions of themselves and the world around them. These altered perceptions often impact health, relationships and self esteem. I help my clients get to the root of these negative perceptions and patterns of response so they can be processed and healing can begin.I work with adults, age 18 and over, beginning with all clients where they are on their personal journey. I am interested in helping survivors of trauma, as well as individuals struggling with fertility issues. My perspective is influenced by attachment-based theories, the Adaptive Information Processing model, mindfulness approaches, EMDR and CBT.
I received my BA in psychology from Point Park University In 2006 and my MS in Counseling Psychology from Chatham University in 2010.
I'm licensed in Pennsylvania as a Professional Counselor(LPC)
License # PC007407
Specialized Training:
EMDR Trained Therapist
Professional Associations:
Nationally Certified Counselor(NCC)
American Counseling Association
Contact Information:
724-426-2798
amanda.chamberlain@untetheredtherapy.org